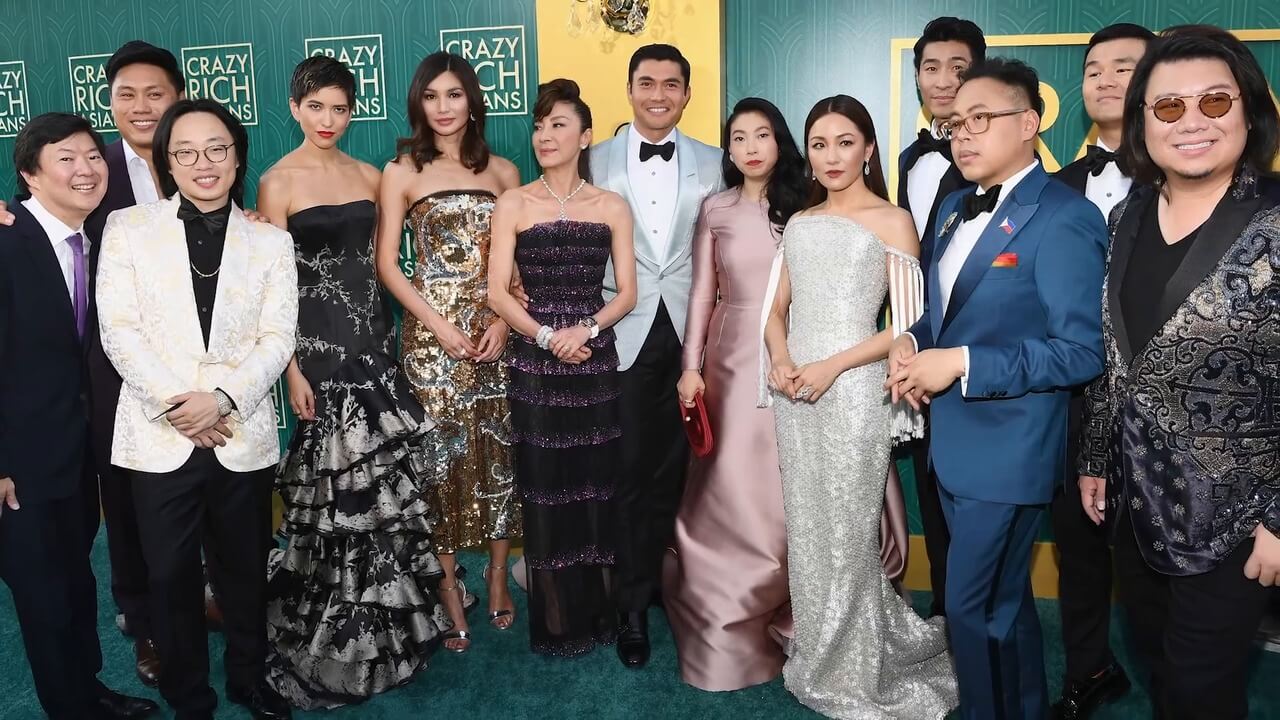 I thought that #CrazyRichAsians was thoroughly enjoyable and a runaway success on so many different levels. As a movie that staged an Asian story on the world stage, it did so with distinction. I was truly proud to see so many of the English speaking Singaporean and Malaysian acting community who have been spending years building their craft with dedication and passion, finally coming of age in this Hollywood movie. Many had even put up with years of playing second fiddle to their much lower quality Chinese-speaking peers who commanded higher income on the parochial local stage, that to shine on the global stage was a pure pleasure to watch.
I was also very pleased to see Asians and Asian-Americans telling their own story, and in their own terms, with zero cliches, to a global audience. Many of the dialogues were simply brilliant and carried a glimpse of the positive energy in Asia relative to the US today. Getting off the plane at Changi Airport, the protagonists marvel at how different it was from John F. Kennedy Memorial Airport's "salmonella and grief", and a father chastising his son to finish his food and think about "all the people starving in America" today. Hilarious but all too real pieces of conversations that have only just made it to the screen.
When the supporting actress tells the heroine to ask for a million dollar cheque from her erstwhile boyfriend's mother for leaving him, I cracked up when she said "they do that sort of thing here, you know." The conversation could have been picked up from any one of the gossips taking place between friends from two different continents in exactly the same coffee shops in Singapore.
Some western audiences would be incredulous to watch these western educated ethnic Chinese cast spouting lines they are perfectly familiar with in a western drama, but with a fluent middle class Asian sensibility to them that we as Asians always knew existed in us.
Interestingly, I also read somewhere that the mainland Chinese in China did not like this movie at all, basically because, well it was not about them. It was about established Asian societies who switch between English, Chinese and three other cultures in their brains with ease, not the new money people in China who have become accustomed to be gawked at for the way they spend. The title of the book plays on this misnomer, by pretending to be later, when actually it was representing the former.
It has actually really been a long time that an Asian movie was neither about a Western idea of a Kowloon sweatshop in Hong Kong nor about the shallow adventures of a mainland Chinese on his first trip to the US. We have brought the genre to the top and center of the rich and multi-dimensional communities in Asia that have been patiently sitting in the sidelines of popular entertainment for just a bit too long.
Sure, the fantastic parts of the movie were just that, fantastic as flicks go. No Singaporean actually lives the way portrayed in the movie, no matter how wealthy they are. The Sultan of Brunei is the only person I know in the region who could have picked up a few tricks on how to throw his next party in international waters. Pure exaggerations, until we think we are looking at ourselves, and then we become a bit more sensitive about how we are portrayed.
The absence of Indian Singaporeans in the movie was one such exaggeration, poignant by its absence. In fact, if you take the movie at face value, you'd think there are no Indians in Singapore, just Chinese, Malays and lots of Filipinos, right down to Kris Aquino.
The actress Michelle Yeoh was quoted saying that she would not take any role that accentuated Western stereotypes of Asians, and here we go, watching Sikhs cast as doormen and night watchmen. That was not fair. I don't think it was deliberate, although I must say that the crew who went to great detail, right down to placement of durians into the right scenes, were clear in their own minds what they were doing. The Chinese Singaporeans does nothing to correct their foreign friends that Singapore is not a Chinese country.
Still the omissions were a form of theatrical exaggeration to keep the story simple. It cast all Chinese as two-dimensional, when in fact, the extravagant entrepreneurial Chinese family portrayed is more likely Taiwanese, Thai or Indonesia, and definitely not Singaporean. But who's asking.
The other major and perhaps more hilarious omission was the complete absence of Singapore Airlines in the movie. There were several scenes in an airport lounge, inside a first class cabin suite, an entire airport with planes on the tarmac and that all-important scene inside the economy class cabin, where the Singapore Airlines aircraft with their iconic sarong kebaya girls were conspicuous precisely by being absent.
Surely, there should be a head to roll in the organisation, especially when the movie was released on the eve of SQ's relaunched direct flights on the A350-900 from NYC to Singapore. Now they can't use the movie to say, "to the city you have been waiting to visit."
I do wait for the chief executive of SQ and the state-owned media to explain how they missed this product placement opportunity, presumably through one of their many arrogant misjudgments again, when even the taxpaying Singaporean had co-funded the movie through government grants. But then again, to have had SQ in the show would have been less than subtle. Best leave some of the enigma to the imagination.
Finally, in a chat group I belong to, there was a discussion whether Kevin Kwan, the writer of the book on which the story is based should come back to serve jail time for skipping his military obligation as a youth, and migrating to the United States.
The mothers of boys who had served their time in my chat group were determined he should come back and serve his jail term. After watching the movie, I thought that Kevin Kwan had more than paid his price for absconding and any fine or jail sentence he could serve would be more than compensated by the profound emotional connection that he was creating for Singapore to the rest of the world.
Not many people understand how nearly impossible this is to achieve for anyone and any country, especially one in the backwaters of Southeast Asia. But still, the public prosecutor of any country would say that the law is still the law and it was something he has to deal with.
The episode puts Kwan in a very interesting position of whether it mattered if a talented Singaporean, or for that matter, the talented native of any country who wants a global standing, should seek to be loved by his own country. It also puts the state on the stand, that its detractors, recalcitrants and dissidents are just as powerful purveyors of the shape and identity of a country as the state thinks it is.
Singapore had this story of Sim Wong Hoo, who in the late 1980s was rejected for a public listing in his own country for his fledgling sound technology company. He then went to NASDAQ in the United States where it was listed for a few hundred million dollars, even without a track record. His technology was the best in its time, and used in #Apple devices.
After his much deserved success, suddenly the same Singaporean politicians who had snubbed him, hailed him as a local boy done good and feted him with attention and adulation as the symbol of entrepreneurship, many taking photos with him to further their own careers.
As he bathe in the support he did not have as a fledgling entrepreneur, becoming philosophical even, his company lost its fighting edge in the highly competitive US marketplace, got into law suits and started unraveling. Sim Wong Hoo is the reminder that anyone who wants to make it big on the world stage should not seek to be loved at home, and in this way, Kevin Kwan is both lucky and unlucky to be in his chosen position.
In the week that the movie was released, Singapore had several cases of highly talented young men at the peak of their youth having to make the decision between reporting for up to two years of national service in a region where there are no wars, (Switzerland reduced theirs to just nine months) or pursuing dreams they can only accomplish in their youth while they still had it. But not all who chose to abscond become global stars, most actually abscond for selfish and even cowardly reasons.
While tongues are wagging, in Singapore, as in the movie, the answer, it seems is a personal one. The universal theme that Kevin Kwan is playing out in his own life, as in the movie, is that we all have to pay the price for the lives we choose and are prepared to live with.